---
Beginner Tatting with Artist Elaine O'Donal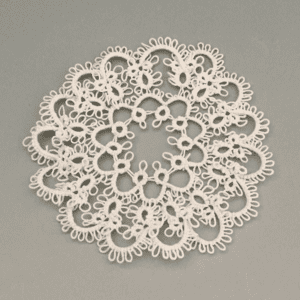 Wednesday, May 1 – 10:00 AM to 2:30 PM
AND
Thursday, May 2, 2019 – 10:00 AM to 12:00 PM –

6 Seats Available
Learn the vintage technique of Tatting at the Meredith Fine Craft Gallery
during this 2-Day Class with international award winning tatter and designer, Elaine O'Donal
The first class will take place from 10:00 AM to 2:30 PM. Students will discover the origins and history of this ancient handcrafting technique and learn about the basic shuttle equipment used, the patterns to create, and the process of tatting.
The second class will take place from 10:00 AM to 12:00 PM. Students will practice their new skills to finish up their tatted projects.
Class is informal and fun, allowing each student to proceed at their own pace. No prior experience is necessary.
Tuition is $35.00 per student with a materials fee of $12.00, paid directly to the instructor.
Materials fee will include shuttle, thread, and beginner patterns. Students need to bring their own scissors,
and if desired, bring paper and pen to take notes.
Space is limited and pre-registration is required.
---
Winnipesaukee Hat with Maryly Matthewman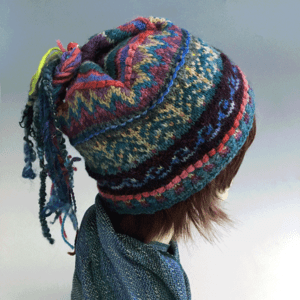 Saturday, May 11th, 2019 – 10:00 AM to 2:00 PM
AND
Saturday, May 25th, 2019 – 10:00 AM to 2:00 PM –

10 Seats Available
Join us at The Meredith Fine Craft Gallery to create an original knitted hat design dedicated to the beautiful unique
72 square mile glacial lake in New Hampshire with instructor, Maryly Matthewman.
This special hat is a colorful motley mix of Romney Ridge hand dyed, locally sourced wool knit in Fair Isle, ancient Latvian patterns, Estonian and textured stitches which mingle to form trees, waves and beautiful mountains.
Maryly's knitting style is relaxed and  based on a concept of change, texture, depth, imperfection, irregularity and most importantly, INDIVIDUALITY!!  Waves, trees and mountain landscapes are constantly changing, have depth and are not perfect. Make this your creation like nobody else can.  You will become a hat designer with splashes of color here and beads there!!
This workshop is split into 2 sessions.
Session 1: Review of texture stitches, a new cast-on idea, beautiful ribbing, Estonian Nupp, colorwork ideas and how to incorporate beads into your knitting.
You will be expected to do some knitting in between sessions.
Session 2: How to finish hat top, bind off and folding, various tassel ideas and beads of course!!
Class includes 2, 4 hour sessions. Materials fee includes Romney Ridge Farm Blend Yarn, hand dyed 50 yd skeins in 5 colors of Lake Winnipesaukee. Pattern for Lake Winnipesaukee Hat. You will have enough yarn for another colorful hat or fingerless mitts. Bead for tassel, bits of unique art yarn for tassel and some glass beads to incorporate into your hat. I will also have additional skeins for purchase.
Skills:  moderate beginner- advanced
Students to bring: #5 16 inch circular needle, basic knitting supplies. Your own trinkets or beads to incorporate into hat. Very small crochet hook
Tuition is $75.00 per student with a materials fee of $40.00, paid directly to the instructor.
Space is limited and pre-registration is required.
---
Nuno Felted Scarf with Melinda Labarge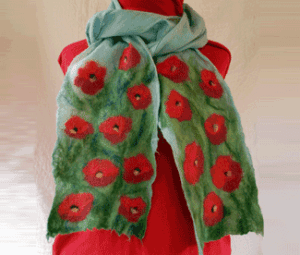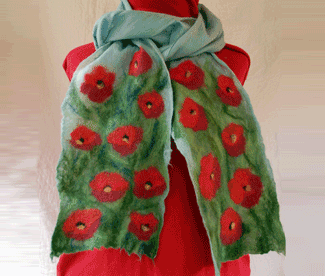 Saturday, July 13th, 2019 – 9:30 AM to 3:30 PM –

6 Seats Available
The Meredith Fine Craft Gallery will be offering a Nuno Felted Scarf Class with League-juried fiber artist, Melinda LaBarge
at the Meredith Community Center.
If you have never felted before or if you are looking to take your skills to the next level this class is for you! Melinda will meet students at their skill level and work with them individually.  No felting experience is necessary.
Nuno is the Japanese word for cloth and the technique bonds loose fibers, such as hand dyed silk, merino roving, silk roving, printed silk materials, and other dyed locks onto a sheer silk fabric. The use of floral silks in unique color palettes produces a handmade product that is reminiscent of impressionist paintings.
There will be an abundance of materials available to choose from to create your own special scarf, in whatever design and color you wish to make. Additional materials will be available for sale, if you wish to make more than one scarf.
Students are encouraged to bring a lunch or snack to satisfy themselves through this 6 hour class.
Students should bring the following materials and tools to class: 3 – 4 old bath towels, plastic bag for wet towels, scissors, pen and paper to take notes, camera (optional) to document process, rubber mat (optional) to stand on, and comfortable shoes.
Please note that this class will be held at the Meredith Community Center (Room B) located at 1 Circle Drive in Meredith, NH.
Tuition is $65.00 per student with a materials fee of $35.00, paid directly to the instructor.
Space is limited and pre-registration is required.
---
Lined Tote Bag Class with Shirley Glines
Sunday, August 4th, 2019 – 12:30 PM to 5:00 PM –

6 Seats Available
Shirley Glines, owner/designer of Zoe Jax Gin Designs, will be here to help you create your own lined tote bag with numerous fabric options for you to choose from.
The skill level for this class is age 12+ with basic sewing machine experience. Fabrics will be provided in the cost of the class. The class fee per person is $60. A materials list for what students need to bring will be provided upon registration or inquiry.
Space is limited. Pre-registration is required for each class.
---
---
JOIN THE LEAGUE LEAGUE HEADQUARTERS

OUR MISSION: The mission of the League of NH Craftsmen is to encourage, nurture and promote the creation, use and preservation of fine contemporary and traditional craft through the inspiration and education of artists and the broader community.
Sitemap. © League of NH Craftsmen. Website Design by Sullivan Creative.
---