Saturday, December 8, 2018
Pop-Up Show with Master Weaver and Fiber Artist
Doug Masury
Meredith Fine Craft Gallery is pleased to host a POP~ UP Show with master weaver and fiber artist Doug Masury, Saturday, Dec. 8th from 11 to 2:00. Back by popular demand, Doug participated in November 2017 Open Doors and had such an impressive turnout, he is coming back to offer his fabulous bamboo, silk, and cotton scarves and shawls. Custom dyed by Doug, the colors make one think of world-wide tribal migrations, hues in nature from the Painted Dessert, colors found in lush foliage, the moon rising as the sun sets. For most of his pieces, Doug uses the Scandinavian Rug Weaving Technique called double-stitched Krokbragd. This is a weft-faced design, meaning, no warp threads show through the weaving. All designs are woven from the weft colors. How one throws the shuttles and the colors determines the patterns and the pattern changes. Embellishments, such as weaving decorative chain and beads through the scarf, add to the unique aesthetic of each piece. Join us Saturday, Dec. 8th from 11 to 2:00 and treat yourself to a luxurious experience.
---
Saturday, December 15, 2018
Pop-Up Show with Carla & Marcia from
Meshugenah Hats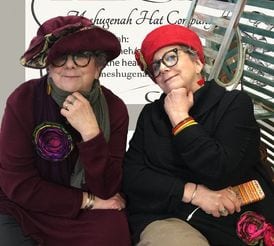 Love hats? Join us Saturday Dec. 15 from 11:00am to 3:00pm and meet the Meshugenah Hat ladies.  Founded in 2015 by twin sisters Marcia Press and Carla Press, Meshugenah Hats have a unique sense of fashion and design which Marcia and Carla inherited from their mother.
Carla is a self taught sewer with a great flare for creativity and whimsy. She learned her craft through persistence and vision. Marcia is a trained painter and designer, specializing in color and texture. Her experience as a textile, wallpaper stylist and art director taught her to interpret color and fashion trends.
While practically every part of the business is done collaboratively, Carla is the primary designer of the hats; Marcia is in charge of the accessories and the day to day business. As Carla puts it, "I make the hats and she makes the decisions!"
When asked Why hats? It was a pretty innocent decision. We LOVE hats! So we started with one vintage pattern and from there developed our own styles. Our signature is that all of our hats are made from high end textiles, they are reversible and they can also be styled in a variety of ways.
Summer hats feature broad brims, large florals, ticking stripes, made from cotton and linen. Winter hats are more cozy…cloches, berets, and brimmed hats made from tapestry, velvets, woolens, and fleece. We also make rain hats. We have hats for just about every occasion, including a royal wedding, should you be invited!
There isn't much we don't enjoy about what we are doing. We love sourcing and choosing fabrics, creating new designs and combinations, and talking shop. But our favorite aspect of the business is meeting new customers. We are so rewarded when a customer finds the right hat- we know it and she knows it, and we all shake our heads and smile at the same time.
Often passersby will admire our hats and then say, "But I'm not a hat wearer." Our feeling is that she just hasn't met the right hat!
Marcia and Carla will help you find just the right hat Saturday Dec 15that their pop up show at the League of NH Craftsmen Fine Craft Gallery in Meredith. Stop by between 11:00am and 3:00pm whether you are a hat wearer or not- you just may be converted!
---
---
JOIN THE LEAGUE LEAGUE HEADQUARTERS

OUR MISSION: The mission of the League of NH Craftsmen is to encourage, nurture and promote the creation, use and preservation of fine contemporary and traditional craft through the inspiration and education of artists and the broader community.
Sitemap. © League of NH Craftsmen. Website Design by Sullivan Creative.