Gourd Jewelry Weaving with Jean Reed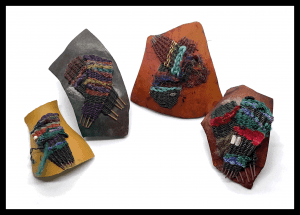 Date to be determined.
Experience a whole new technique in jewelry making. This wearable art is created by weaving on dyed gourd shards that have been prepped for you. Jean will help you master this tapestry type of weaving to make a unique piece of jewelry. Beading can easily be incorporated in your work.  You will work with reed, waxed linen, yarns, boucle and embellishments. The gourd pieces measure approximately 3-5" long and no two are alike.
Tuition is $70.00 per student with no additional materials fee.
Space is limited. Pre-registration is required.
---
Shaker Tape Weaving on a Footstool with Jean Read
Date to be determined.
Spend a few hours with us in a relaxed atmosphere and weave with Shaker tape, on a finely crafted oak footstool.  When finished with this class, not only will you take home a beautiful piece of furniture but you will have woven it totally on your own, in the classic Stepping Up pattern.
You can take your new skill and apply it to any chair that you have at home. In this class you will be weaving with 100% cotton Shaker tape and several color choices. No previous weaving experience is needed.
Tuition is $120 with no additional materials fee.
Students should bring a pair of sharp scissors and a tape measure.
---
Child & Parent Footstool Weaving with Jean Read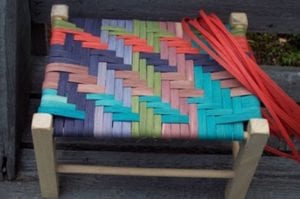 Date to be determined.
This is a workshop for you and your child/grandchild/friend, ages 6-12.  With your assistance, children will weave a seat on a sturdy footstool, using a variety of brightly colored reeds. They will learn the  basic herringbone pattern.  Students need to bring a hand towel and apron to class.
NOTE:  All tools will be supplied for class but there will be scissors needed.  If you'd prefer your child not use scissors, please plan to be in class with him/her.
Tuition is $65 with no additional materials fee.
Space is limited and preregistration is required.
---
---
JOIN THE LEAGUE LEAGUE HEADQUARTERS

OUR MISSION: The mission of the League of NH Craftsmen is to encourage, nurture and promote the creation, use and preservation of fine contemporary and traditional craft through the inspiration and education of artists and the broader community.
Sitemap. © League of NH Craftsmen. Website Design by Sullivan Creative.