---
Fused Glass Landscape Class with Lynn Haust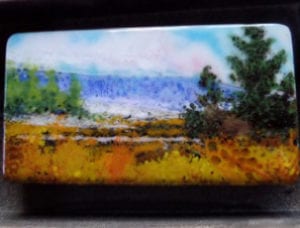 Saturday, October 26th, 2019 – 10:30 AM to 2:30 PM
Explore the world of melted glass in a fast-paced workshop that will introduce the glass student to the techniques, materials, and equipment used to create a beautiful glass landscape.
Create an original work using a full range of glass colors in sheet, various sizes of frit, strangers, and a variety of kiln techniques to create depth in your image. Many fused glass landscape examples will be on display. Safety, kiln firing, glass cutting, and cold working techniques will be covered. An information packet will also be included. We will be using Bullseye glass COE 90 and other equipment to cut, grind, and shape your glass. Come prepared to work hard and have fun!
Tuition is $140.00 per person.
Space is limited. Pre-registration is required for each class.
---
Beginner Stained Glass Panel Class with Susanna Ries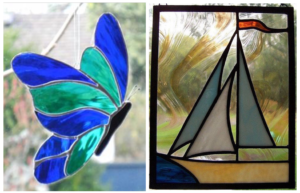 Sunday, November 10, 2019 – 9:00 AM to 5:00 PM – Class is full
The class on Nov. 3rd had to be rescheduled for Nov. 10th. Sorry for any inconvenience.

Join us at the League of NH Craftsmen for a Beginner Stained Glass Panel Class with juried artist Susanna Ries.
This high paced class will have you cutting, copper foiling, soldering and framing a stained glass panel in one day. You can choose your own design from patterns supplied by the instructor or you can use one from another source as long as it is constructed of 13 glass pieces or less.  The basic skills of stained glass construction will be taught and you will go home with a finished piece that is ready to hang!
Students will need to bring: cork board at least 16 x 20 inches, masking tape, apron, scissors, sturdy rubber gloves, safety glasses (if you wear glasses you do not need safety glasses), very casual clothes and covered shoes – no sandals! And of course, a large plastic sealed bag or grocery bag to carry your piece and pattern home.
Tuition is $48.00 per student, and there is a $40 materials fee, paid to the instructor on the day of class.
Space is limited. Pre-registration is required.
---
---
JOIN THE LEAGUE LEAGUE HEADQUARTERS

OUR MISSION: The mission of the League of NH Craftsmen is to encourage, nurture and promote the creation, use and preservation of fine contemporary and traditional craft through the inspiration and education of artists and the broader community.
Sitemap. © League of NH Craftsmen. Website Design by Sullivan Creative.