---
Beginner Stained Glass with Artist Susanna Ries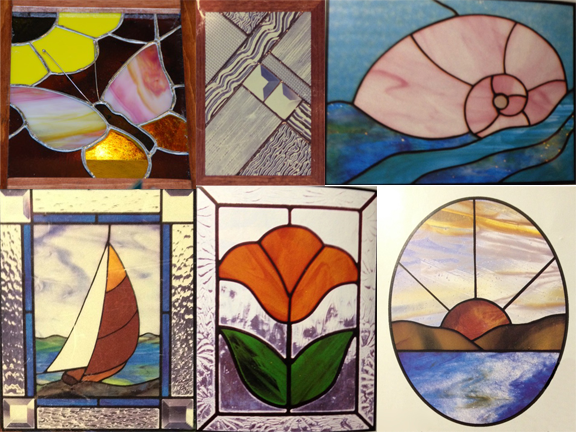 Sunday, April 7, 2019 – 9:00 AM to 5:00 PM – 6 Seats Available
Sunday, May 5, 2019 – 9:00 AM to 5:00 PM – Class is Full – Please call to be added to the Wait List
Sunday, June 2, 2019 – 9:00 AM to 5:00 PM –

5 Seats Available
Learn to make your own Stained Glass Art at the Meredith Fine Craft Gallery
during this 1-Day Class with League-juried artist, Susanna Ries.
This high paced class will have you cutting, copper foiling, soldering and framing a stained glass panel in one day. You can choose your own design from patterns supplied by the instructor or you can use one from another source as long as it is constructed of 13 glass pieces or less.  The basic skills of stained glass construction will be taught and you will go home with a finished piece that is ready to hang!
Students will need to bring: cork board at least 16 x 24 inches, apron, scissors, latex gloves, safety glasses (if you wear glasses you do not need safety glasses), very casual clothes and covered shoes – no sandals! And of course, a large plastic sealed bag or grocery bag to carry your piece and pattern home.
Tuition is $48.00 per student and there is a $40 materials fee, paid to the instructor on the day of class.
Beginners and advanced students, age 12 and up, are welcome to participate.
Space is limited and pre-registration is required.
---
---
JOIN THE LEAGUE LEAGUE HEADQUARTERS

OUR MISSION: The mission of the League of NH Craftsmen is to encourage, nurture and promote the creation, use and preservation of fine contemporary and traditional craft through the inspiration and education of artists and the broader community.
Sitemap. © League of NH Craftsmen. Website Design by Sullivan Creative.