Soup's On!

Soup's On our new exhibit of the month!
Welcome to November! This month it's all about soup and chowder bowls! Warm up with your favorite bowl of soup as the weather turns chilly! We have a wide selection of handcrafted soup bowls, and the best part is that a portion of the money raised will go to the Belknap House in Laconia to support local families in need.
---
Welcome Our New Artist – Richard Roth!

New to the Meredith Gallery, ceramic artist Richard Roth.
---
Foraging Through the Forest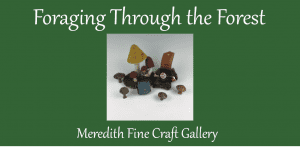 Mushrooms and birches and birds, oh my!
This month it's all about what you can find in the forest. While we know it's past mushroom season, these gathering bags can be used for all your foraging needs. Grab your gathering bag for mushrooms or your binoculars to go bird hunting, because we have the perfect gifts for those who are "wild at heart"!
Click here or the above photo to see more available items on our online store.
---
A Special Surprise!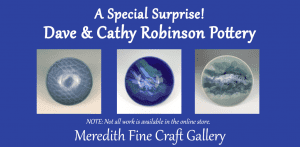 As many League of NH Craftsmen customers know, Dave and Cathy Robinson have been potters with the League for more than fifty years. Robinson Pottery was some of the bestselling pottery in the Gallery. Several years ago Dave decided to retire, and so began the process of the Meredith Gallery selling off what work was left to everyone who wanted one last piece of Robinson Pottery. They were sad days for us.
We were recently contacted by Dave who said he wanted to sell pieces out of their personal collection and asked if we would come down to the studio to see them.
We are pleased to offer this limited body of work for sale.
---
This month's exhibit is a real hoot! It's all about owls. Stop in to the Gallery to see this fabulous exhibit of owls by various artists.
Click here or the above photo to see more available items on our online store.