Patterns in Time – July 2022 Exhibit
This July the League of NH Craftsmen – Meredith Fine Craft Gallery will be hosting an exhibit titled "Patterns in Time", a collaborative effort by League artists Doug Masury and Becky Sawyer. The exhibit features scarves, shawls, and jewelry inspired by the patterns of stained glass, scarification, and Frank Lloyd Wright.
Stained glass has been around since the early Christian Church and combines colored pieces of glass to make a beautiful image, with original inspirations taken from Roman mosaics.
Scarification is the process of permanent body modification of scarring the skin for political, social, and cultural reasons, a practice that has been performed by African cultures for generations.
Frank Lloyd Wright was an American architect, writer, designer, and educator who created architectural structures and designs that worked in harmony with nature and the environment, a style he called "organic architecture."
Click here or the above photo to see more available items on our online store.
---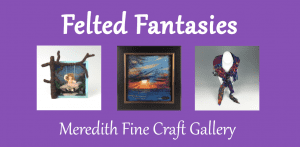 The art of felting allows the artist to create sculptural whimsy or realistic, almost painterly images. Modern felting as it's often used today originally came out of the technique of wet felting material together using soap and water. Today both methods are used depending on an artist's desired product.
Check out our selection of fabulously felted artwork.
Click here or the above photo to see more available items on our online store.
---
---
JOIN THE LEAGUE LEAGUE HEADQUARTERS

OUR MISSION: The mission of the League of NH Craftsmen is to encourage, nurture and promote the creation, use and preservation of fine contemporary and traditional craft through the inspiration and education of artists and the broader community.
Sitemap. © League of NH Craftsmen. Website Design by Sullivan Creative.