June 2023
"FABRICate", showcases the work of four incredible fiber artists Cheryl Miller, Elaine Farmer, Patsy Fraiser, and Helen Fitzgerald.
FABRICate is a celebration of the versatility and beauty of fabric as an artistic medium. Each artist has created a stunning collection of work that showcases their unique style and vision.
---
July 2023
The Mountains Are Calling 
A collection of work by various artists inspired by the mountains of New Hampshire.
---
A Special Exhibit July 2023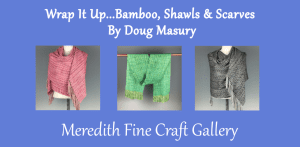 "Wrap It Up… Bamboo Shawls & Scarves" by Doug Masury, showcases his beautiful scarves and shawls.
Wrap yourself up in the luxurious and unique styles of Doug Masury's bamboo scarves and shawls! This New England fabric artist has captured the essence of nature's beauty in his beautiful designs made from the finest bamboo fibers. Each piece is a work of art, hand dyed, and hand woven.