Monthly Features
MARCH:

Click here to browse our selection of butter dishes online.
The League of NH Craftsmen Meredith Fine Craft Gallery will host an exhibit of butter dishes during the month of March.
The first known butter dish was created by cutlery and hollowware company Simpson, Hall, Miller & Co. around 1880. Before refrigeration many butter dishes had a little chamber to store ice chips in order to keep them cool. Other variants, one notable type called a French butter dish, contained a base full of water instead of ice that surrounded an airtight cup which held the butter. Because of refrigerators, most butter dishes now function simply to protect butter and serve as a nice addition to tableware.
Participating League juried artists have hand-crafted butter dishes specifically for this exhibit, "Pass the Butter." You will find a variety of these one-of-a-kind pieces available to purchase here in the Meredith Fine Craft Gallery.
---
JUNE:
"Hope is the Thing with Feathers"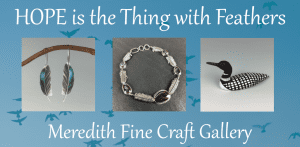 After a tumultuous 2020, the Meredith Gallery decided that the first themed exhibit for 2021 would be based on this poem of the same name by Emily Dickinson. While it is not specifically about birds, it expresses the feeling of hope for the future. When one sees the first bird of the season it gives hope that better times are ahead, like a bird ushering in a new season.
Click the above image to browse our online selection.
---
JULY:
The Art of Tea

The League of NH Craftsmen Meredith Fine Craft Gallery is hosting their July 2021 exhibit entitled the "Art of Tea."
Tea is thought to have originated in ancient China just a few thousand years ago. A legend says that a Chinese emperor was boiling water in his garden when a leaf from a tree fluttered into the pot. Tea comes in all types of flavors and has many health benefits.
This exhibit will feature all things tea: teapots, teacups, tea sets, tea bowls, and more created by various League artists.
---
AUGUST:
Mugshots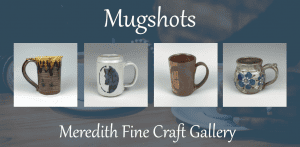 A collection of mugs by various artists. More info coming soon!
---
SEPTEMBER:
Autumn Gathering
A collection of baskets & bowls by various artists. More info coming soon!
---
OCTOBER:
7th Annual Glass Pumpkin Patch
More info coming soon!
---
---
JOIN THE LEAGUE LEAGUE HEADQUARTERS

OUR MISSION: The mission of the League of NH Craftsmen is to encourage, nurture and promote the creation, use and preservation of fine contemporary and traditional craft through the inspiration and education of artists and the broader community.
Sitemap. © League of NH Craftsmen. Website Design by Sullivan Creative.