2-Day Tatting Class (for ALL skill levels)
with Elaine O'Donal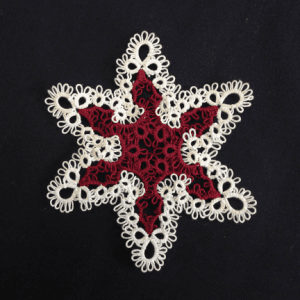 Friday, November 5, from 10 am – 2:30 pm
AND
 Saturday, November 6, 2021, from 10 am – 12 pm
The first class will take place Friday from 10 am – 2:30 pm. Students will learn the origins of this ancient handcrafting technique, learn about the basic tools used, creating patterns, and begin the process of tatting.
The second class will take place Saturday from 10 am – 12 pm. Students will practice their skills to finish up their tatted projects.
Class is informal and fun, allowing each student to proceed at their own pace. This class is for ALL skill levels. No prior experience is necessary.
Tuition is $45 per student with a materials fee of $10 paid directly to the instructor on the day of the class. Materials fee will include shuttle, thread, and patterns. Students need to bring their own scissors, and paper and pen to take notes.
Students are also encouraged to bring a bagged lunch.
Space is limited and pre-registration is required.
---
---
JOIN THE LEAGUE LEAGUE HEADQUARTERS

OUR MISSION: The mission of the League of NH Craftsmen is to encourage, nurture and promote the creation, use and preservation of fine contemporary and traditional craft through the inspiration and education of artists and the broader community.
Sitemap. © League of NH Craftsmen. Website Design by Sullivan Creative.
---