---
Resin Jewelry Class with Joy Raskin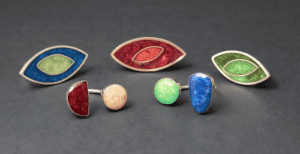 Saturday, September 21, 2019 – 10:30 AM to 4:30 PM – 2 Seats Available
Join one of our favorite jewelers, Joy Raskin, to explore the colorful, fun world of resin to add color to your jewelry!
Explore the colorful, fun world of using resin to add color to your jewelry! Using 2 part quick setting epoxy, we will add paint, herbs, tea leaves, colored powder, glitter and much more, mix epoxy and color together, and apply onto jewelry. Instead of using stones to set in jewelry, why not use resin? Works great for jewelry with texture, recessed areas, empty stone settings and anything else that you want to try. Instructor will provide epoxy and some coloring agents, but students should feel free to bring anything that they want to add to epoxy to make resin-filled jewelry. Even twigs have been used for resin jewelry!
Students should feel free to bring tiny beads, stones, or other material you'd like to set or incorporate into your jewelry.
Tuition is $68.00 per student with a $30.00 materials fee paid directly to the instructor at the start of class.
Space is limited. Pre-registration is required.
---
---
JOIN THE LEAGUE LEAGUE HEADQUARTERS

OUR MISSION: The mission of the League of NH Craftsmen is to encourage, nurture and promote the creation, use and preservation of fine contemporary and traditional craft through the inspiration and education of artists and the broader community.
Sitemap. © League of NH Craftsmen. Website Design by Sullivan Creative.