---
Asian Stab Book Binding with Jong-Yoon Kim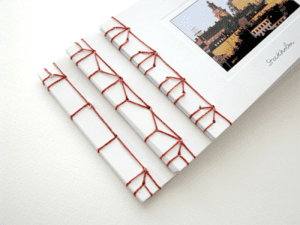 Wednesday. September 27, 2019 – 2:00 PM to 4:30 PM – 3 Seats Available
(The September 11th class has been rescheduled to September 27th)
Learn the unique art of Asian stab book binding with instructor, Jong-Yoon Kim.
Stab Binding is the method of bookbinding that the Chinese, Koreans, Japanese, and Vietnamese used before adopting the modern codex form. This class will explore various types of Stab Binding techniques.
Tuition is $40.00 per student with no additional materials fee. Students should bring a cork back metal ruler to this class.
Space is limited to 8 students and pre-registration is required.
---
---
JOIN THE LEAGUE LEAGUE HEADQUARTERS

OUR MISSION: The mission of the League of NH Craftsmen is to encourage, nurture and promote the creation, use and preservation of fine contemporary and traditional craft through the inspiration and education of artists and the broader community.
Sitemap. © League of NH Craftsmen. Website Design by Sullivan Creative.