---
 2017 Annual Ornament
Winter's Waltz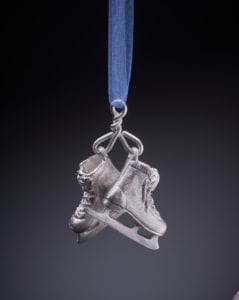 Don't miss out! ONLY 12 of these ornaments left!
Winter's Waltz is a pair of pewter ice skates dangling from a frost blue ribbon.
Inspired by memories of ice skating in winters past, juried League member Walker Boyle created this handcrafted pewter ornament.  Walker used the ancient lost wax method of casting combined with modern metal working techniques to create this one-of-a-kind ornament.  A ribbon is attached to the top so it can hang on a tree or wreath.  Each one is hand signed, dated, and numbered by Walker.
Each ornament retails at $28.00 and comes with an artist card and a beautiful blue box.  This is the League's 30th Annual Ornament. Give as a gift or add it to your collection.
Call the Meredith Fine Craft Gallery or stop in to get your ornament today!
---
VERY LIMITED INVENTORY!


2016 Annual Ornament
Pitter Patter
The League of NH Craftsmen 2016 Annual Ornament, called Pitter Patter, is a whimsical rhodium-plated Elf Boot with etched and silkscreened details.
Sussy-Rose Shields, juried in metal the League, created this ornament which represents the magic and joy of the season with a little elvin mischief.  Each ornament is hand signed and numbered by Sussy-Rose.
Each ornament retails at $25.00 and comes with an info. card and a box.  This is the League's 29th Annual Ornament.  Give as a gift or add it to your collection. Not suitable as a toy or for children under the age of four.
---
2013 Annual Ornament
Woven in Winter

If you missed this one there is still a few left!
The League of NH Craftsmen's annual ornament for 2013 was Woven In Winter, a miniature, woven black ash basket with a white oak handle and rim made by Alice Ogden.
The ornament is embellished with a shimmery sage-colored ribbon on the front, and has a golden thread for hanging on a tree or wreath. Its open weave allows the decorative lights of a Christmas tree to shine through it. Each ornament is numbered as one of a limited edition. The ornament comes beautifully gift-boxed and sells for $24.50.
---
---
JOIN THE LEAGUE LEAGUE HEADQUARTERS

OUR MISSION: The mission of the League of NH Craftsmen is to encourage, nurture and promote the creation, use and preservation of fine contemporary and traditional craft through the inspiration and education of artists and the broader community.
Sitemap. © League of NH Craftsmen. Website Design by Sullivan Creative.